Worms Head and Rhossili;
take a gentle flat stroll to the end of the mainland with wonderful views of cliffs and bay; or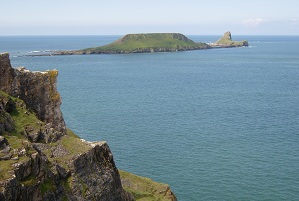 scramble across the causeway and climb to the end of the Worm (you must check times of tides before attempting this). The 5 mile arc of Rhossili Bay is probably the best beach in Britain, and the only British beach to be in the World Top Ten; climb down the steps and inspect the remains of the wreck of the Helvetia which is visible on the beach, watch the surfers or hang-gliders, relax, stroll or investigate the rockpools on the beach. Visit the Rhossili National Trust Shop & Visitor Centre, and enjoy a drink or meal overlooking the bay – the sunset over Worm's Head is out of this world.
Cefn Bryn and King Arthur's Stone;
Drive to the highest point on the Gower peninsula, and take a gentle stroll or longer walk on Cefn Bryn. Visit King Arthur's stone. This is a massive isolated Neolithic burial chamber capstone that dates from at least 4000BC; it weighs over 25 tonnes, and rests on 4 uprights.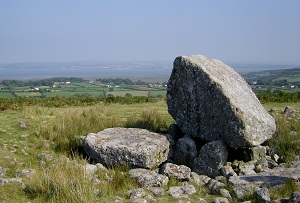 Legend says that Arthur threw away a pebble from inside his shoe which landed 7 miles away on Cefn Bryn. There are estimated to be over 100 cairns around the area. Enjoy magnificent views to the sea on both sides of the peninsula at once, and have a good chance of seeing wild ponies. Call in at the King Arthur Pub for a coffee, drink or meal; sit outside in the sun or get cosy inside.
Weobley Castle
Just down the road is Weobley Castle, a fascinating 500 year old fortified manor house, situated in a perfect position with views out over the Estuary. http://cadw.wales.gov.uk/daysout/weobleycastle/?lang=en
Three Cliffs Bay
another beautiful, and much photographed and painted, bay. This one has no car-park and has to be approached on foot by one of two very different routes, ensuring that it is always extra peaceful.
Mumbles
is a fun place to visit with plenty of activities to choose from; Mumbles Pier, the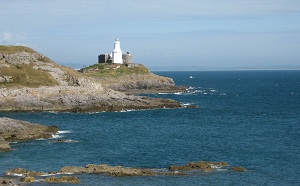 lighthouse and lifeboat station, a long foot and cycle path around Swansea Bay, the mini train, crazy golf, a large playground for children, a choice of good restaurants and pubs including Verdi's and Joe's ice cream parlours, a games arcade, and the newly re-opened Oystermouth Castle
The Gower Coastal Path
The Gower coast is one of the best kept secrets in the UK; the beaches are near perfect with vertical limestone cliffs dropping onto clean sand and dunes.which explains why Gower is the first area in which the National Trust bought coastal land http://www.glamorganwalks.com/gower_coast.htm
Boat trip
Take a trip out and see some beautiful scenery and amazing wildlife http://www.gowercoastadventures.co.uk/
Carriage driving
Just down the road from here is a carriage driving centre, which offers lessons, showing tuition and outings for a gentle drive round the local lanes. http://www.rowena-moyse.com/index.html
Archery and falconry
Perriswood is a centre where you can have an archery lesson, experience falconry or even combine the two. Activities can be indoors or outdoors. http://www.perriswood.com/
Aberglasney
Aberglasney is one of the finest gardens in Wales.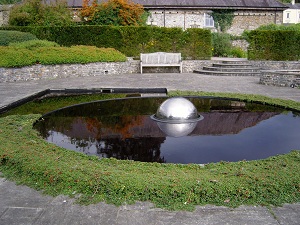 It features a walled garden, a sunken garden, a woodland garden, a crab apple tree arch, woodland pool, restored aviaries and a ninfarium(an award winning atrium-covered courtyard where sub-tropical plants thrive). A pleasant café adds to it's charms. The restoration of Aberglasney was the subject of a recent television series. http://www.aberglasney.org/
Botanic Gardens of Wales
The Great Glasshouse is one of the world's Top Ten Glass Buildings. There are several pools, wild garden, slate beds, Japanese garden, bee garden and many others. The Botanic Gardens of Wales was established with the help of lottery funding and is well worth a visit. http://www.gardenofwales.org.uk/
Swansea
lots to see and do http://visitswanseabay.com/attractions The Marina; stroll round the boats, cross the swing bridge, admire the modern Sail Bridge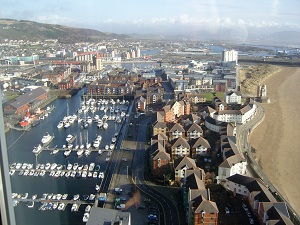 or zoom up to the top floor of the tallest building in Wales, where you can enjoy superb views across Swansea Bay while enjoying a drink or meal in the café there. Plantasia a tropical heaven of plants, brds and animals in the centre of Swansea (and ideal if there should be a rainy day!) www.plantasia.org Waterfront Museum, interactive displays of Welsh industry and innovation www.museumwales.ac.uk Dylan Thomas Centre, somewhere to go and celebrate the famous Swansea poet (you could also visit the Boathouse at Laugharne where he spent his later years) www.dylanthomas.com Dylan Thomas Birthplace Tours, www.dylanthomasbirthplace.com, Swansea Grand Theatre www.swanseagrand.co.uk, Visit a real working chocolate factory, chocoholics and kids will love this! About 10 minutes drive http://www.thechocfactory.co.uk/tours/
Gower Heritage Centre
a crafts and rural life museum centred on a 12th century water powered corn and saw mill http://www.gowerheritagecentre.co.uk/main.htm Heart of Wales Railway Line. Go for a ride on a magnificent rural railway, and travel through spectacular scenery. www.heart-of-wales.co.uk
Gower show.
If you happen to be this way on the first Sunday in August, the Gower Show,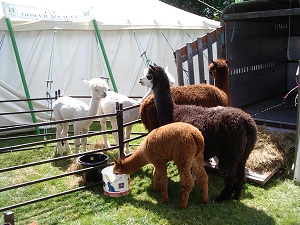 held at Penrice Castle Park, is a true slice of the country
Horse riding
There are several horse riding centres on Gower, and they give you a wonderful opportunity to enjoy the outstanding natural beauty all around.
Golf Courses
There are four golf courses set in beautiful countryside on the Gower Peninsula, and across the estuary only 8.5 miles away is the championship course of Machynys Peninsula Golf & Country Club, which is home to the European Tours 'Ladies Championship of Europe'.
Useful travel links:
http://www.the-gower.com/ http://visitswanseabay.com/attractions